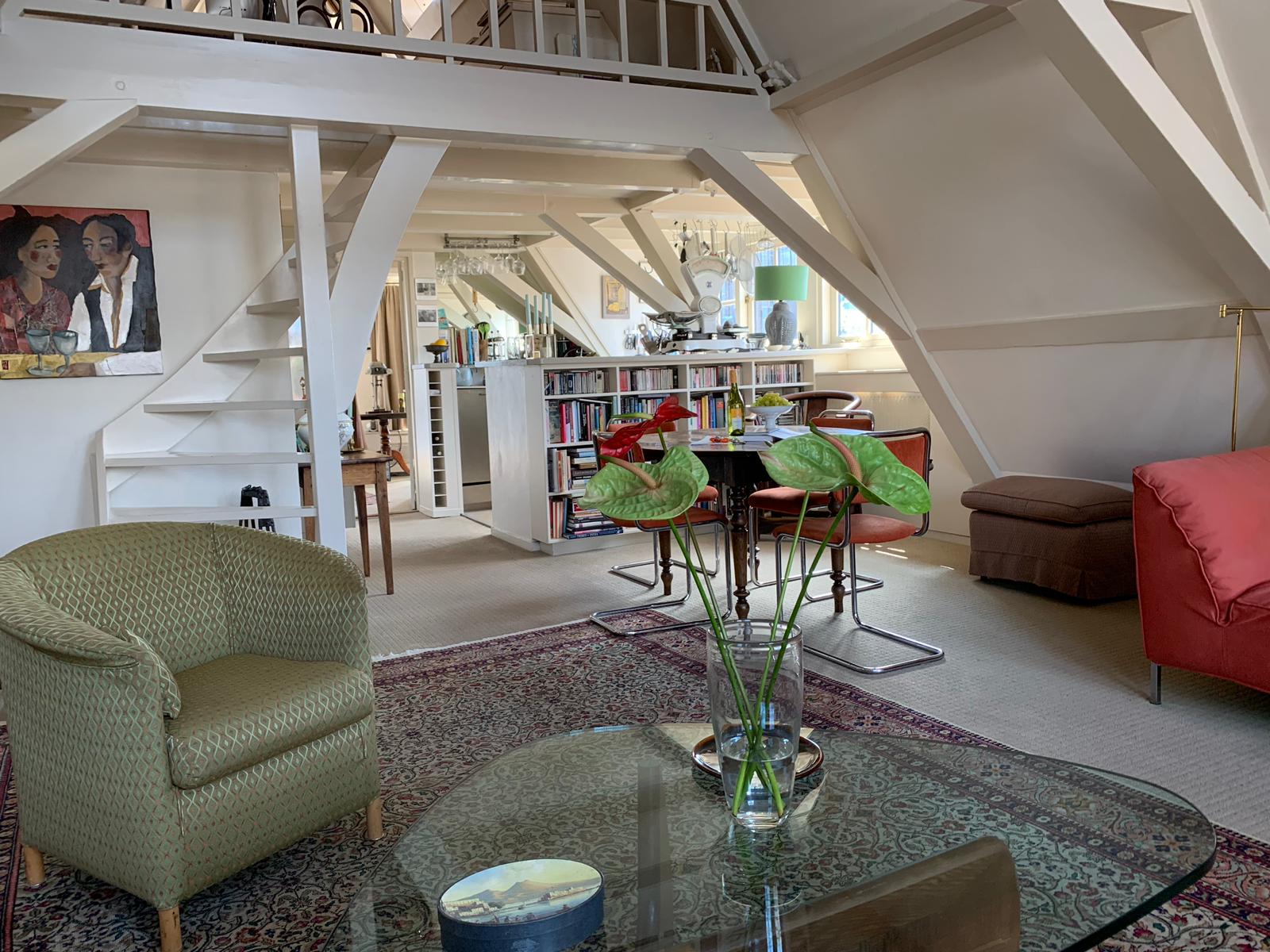 Situated right in the heart of the old center, the apartment is on the top (4th) floor of an old historical house overlooking Amsterdam's rooftops.
The 110sqm flat is a loft-like space with living room and an open kitchen overlooking the roofs of Amsterdam. The living has a fireplace which makes it cozy during winter time, but when the weather is good you can relax in total privacy on the 40sqm terrace and enjoy some of the most incredible sunsets.
There is a master bedroom which sleeps two and up in the attic there is another bed which takes two people.
The apartment, with its characteristic wooden beams, is full of light and very tranquil allowing you to enjoy some peace and quiet after a day out, or entertain in all comfort.
The house is in the heart of the historical center overlooking Amsterdam's rooftops. Just round the corner from the famous flower market, you are at minutes walking distance from everything you need. Whether it's shopping during the day, or going out in the evening, here you don't even need the bike to get to it. And when you are tired of it all you can retire to tranquility just as quickly as you found the hub of it all. There are three tramlines just round the corner which take you to the major museums like the Van Gogh in less than ten minutes, and in the opposite direction to the central station just as quickly (its only three stops) . The neighborhood is friendly and safe, and if you enjoy cooking at home, you'll find an excellent grocery, butcher, patisserie, and the best cheese shop I've ever come across, just round the corner. A one minute walk takes you to the SPUI, a square with lovely cafes with long reading, bookshops, and on fridays and sundays art and book markets. This apartment is available only limited periods.
Now available for the month November 2019. Enquire for details and rates. Info add aplace2stay.eu
No smokers, no pets.
Find us on Facebook for events in Amsterdam : Aplace To Stay
http://www.facebook.com/aplace.stay